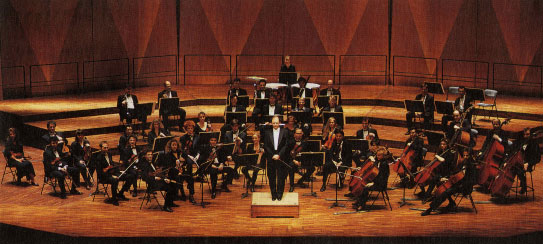 The French Symphonic Orchestra (OSF) has been founded in December 1988 by Laurent Petitgirard and gave his first concert in the Flaine Station (French Alps) on December 30, 1988.

Thanks to the exceptional support by Éric and Sylvie Boissonnas, then joigned later by private companies as Beaufour, RMO or Cider, the orchestra becomes in October 1989 the first private « full-time" French symphonic orchestra, including 40 permanent musicians.

During 8 years this orchestra, including some of the best young musicians mostly graduated from the CNSMDP (National Superior Conservatory for music and dance), with Paul Rouger as violin supersolist, proposed a complete season Salle Pleyel and Salle Gaveau in Paris.

The orchestra did 2 series of concert in USA, recorded a large number of Cds and videos and had a systematic program of contemporary music.

Its bold pricing policy (each ticket for 50FF-7,50€) and the integration of audiovisuals rights in musicians contracts have triggered numbers of aggressive reactions from heavily subsidized orchestra managers or union officials.

This wonderful adventure ended in 1997.

It served as a springboard for these excellent musicians who have all had remarkable careers as a conductor, soloist or by integrating some of the major orchestras of our country.

The following brochure was produced for the last Parisian concert of the French Symphonic Orchestra and which traces all of his concerts and recordings.
Booklet "The French Symphonic Orchestra"
Gaspard de la Nuit Ravel-Constant WATCH THIS VIDEO CLIP
Prélude à l'après midi d'un faune WATCH THIS VIDEO CLIP
Pélléas et Mélisande WATCH THIS VIDEO CLIP
Nuit sur le Mont Chauve WATCH THIS VIDEO CLIP
Brahms Piano Concerto N°1 in D Minor WATCH THIS VIDEO CLIP
Brahms C°Piano N°2 WATCH THIS VIDEO CLIP
Brahms Symphony N°1 WATCH THIS VIDEO CLIP
Brahms Symphony N°2 WATCH THIS VIDEO CLIP
Brahms Symphony N°3 WATCH THIS VIDEO CLIP
Brahms C° for Violin and orchestra WATCH THIS VIDEO CLIP
Brahms Concerto for violin and cello in A Minor WATCH THIS VIDEO CLIP
Beethoven C°piano N°4 WATCH THIS VIDEO CLIP
Tchaikowski Roccoco Variations WATCH THIS VIDEO CLIP
Saint Saëns C°Cello N°1 WATCH THIS VIDEO CLIP
Saint-Saëns Introduction et Rondo Capriccioso WATCH THIS VIDEO CLIP
Saint Saëns Une Nuit à Lisbonne WATCH THIS VIDEO CLIP
Maurice Ravel Ma Mère L'Oye (Mother Goose Suite) WATCH THIS VIDEO CLIP