Characters
| | |
| --- | --- |
| Elephant Man | Contralto |
| Doctor Treves | Baryton |
| Tom Norman, Showman | Tenor |
| Mary, nurse | Soprano |
| Eva Lückes, chief nurse | Mezzo |
| Carr-Gomm, hospital's manager | Bass |
| The Colorature | Soprano - Colorature |
| Jimmy, Norman's assistant | Soprano |
| Boy 1 | Tenor |
| Boy 2 | Baryton |
| Young girl | Soprano |
| | |
| --- | --- |
| The Father (of the young girl) | Baryton |
| The Mother (of the young girl) | Mezzo |
| Women 1 | Soprano |
| Women 2 | Mezzo |
| Charles Taylor (17een years old) | Violonist |
| The little boy | Soprano (child) |
| The nurses | 3 soprani & 3 alti from the choir |
| The comitee | 6 bass from the choir |
Synopsis
The story is based on the life of Joseph Carey Merrick, known as "Elephant Man".

By contrast with the well-known film of David Lynch, the libretto is based not on the memoirs of Dr. Treves, who tends to give himself the leading role, but on various biographies of "Elephant Man".

Joseph Carey Merrick died at the age of 27 and it is almost certain he committed suicide. He suffered from a very rare though clearly defined neural-fibromatosis, rather like some of today's genetic diseases. It was the evolution of his disease that marginalized Joseph Merrick, and it was quite deliberately that he decided to exhibit himself, as he had no other resources.

Act 1 takes place in the world of the circus, the world of showmen, of presenters of freaks.

We are introduced to the director of the show, Tom Norman, a young man claiming to be a friend of the great Barnum. He is assisted by a young lad, Jimmy.

For Norman, being a presenter of freaks is a trade, a profession, and he considers his freaks as artistes, treating them as such, and no differently.

The show was designed to impress passers-by, in other words the poorer classes of Whitechapel.

The first act ends with a police ban on the show, requested by Dr. Treves of London Hospital.

Such bans led to the decline of the Freak Show, the exhibition of fairground monsters in England, and Joseph Merrick ended up with itinerant companies in Europe, before being abandoned on the wayside like a dog. When the police found him again in England disembarking from a liner, Joseph Merrick was by then a man living in terror, unable to speak, ill, having lost all identity, and having as sole possession a visiting card of Dr. Treves of London Hospital.

Act 2 features the arrival of Joseph Merrick in London Hospital where he is taken care of by Dr. Treves.

Once there, Joseph Merrick keeps his life hidden, together with his past, his intelligence, his sensitivity towards doctors. His arrival causes a great stir among the patients who sing the Prayer of the ill for him. He finds refuge in his situation as a medical case, and it is a long time before he reveals his personality.

And, as is often the case in hospital, it is with the nurses that he regains the faculty of speech, life and human dignity, especially with the nurse looking after him, Mary, who shows him compassion bordering on love.

It is with her that he regains normality.

Act 3

Joseph Merrick is shown to doctors in a kind of conference-spectacle for the Pathological Society.

As the statutes of London Hospital do not allow it to receive incurable patients, Dr. Treves calls on private funding, through the intermediary of The Times, in order to be able to keep Joseph Merrick. This financial operation gives Joseph Merrick media celebrity and brings fame to Dr. Treves.

Joseph Merrick rebels against this situation and almost comes to regret Tom Norman's exhibitions.

Dr. Treves discovers, to his great surprise, that not only Joseph Merrick is not a mental defective, but he is very intelligent and highly cultivated.

Joseph Merrick refuses to accept Mary's feelings for him, out of modesty and through consciousness of his condition.

Act 4

Joseph Merrick has become famous, receiving guests in his private ward in London Hospital. He is feted, adulated, asked for in marriage by a fashionable actress (a coloratura who has a big "number"), is visited by dukes and duchesses, and even members of the royal family come to see him in London Hospital.

He is naturally captivated by this sudden celebrity, but at the same time, he finds escape from his illness through reading.

Dr. Treves informs him, despite Mary's pleas, that his illness is getting worse and that it will lead to total decline and inevitable death.

In April 1890, Joseph Merrick realises his dream of lying down flat, just the once, like everyone, like a man.

Joseph Merrick knows very well that in lying down, he will die, as the neck bones will break under the weight of his deformed head.

He had realised that his disease was approaching its conclusion, that he was reaching his end.

His last words are a prayer and a call to God:" My God, are you for me as you are for others?"
Orchestration
2 flutes (fl in G, piccolo)
2 oboës (English Horn)
3 clarinets (Bass Clarinet)
3 bassoons (Contrebassoon)
4 horns
2 trompets
3 trumbons (Bass Trumbon)
1 tuba
1 harp
1 celesta
1 timpanist
2-3 percussions (Vibra-Xylo-Tam-Tam-Bells-Toms-Cymbales suspendues -Bass Drum -Cymbales frappées-Side Drums-small percussions)
Strings (minimum 10-8-6-5-4 with 2 Bass 5 strings)
Mixed Choir
Act I 42 minuts
Act II 43 minuts
Intermission
Act III 33 minuts
Act IV 27 minuts
Full Symphonic Orchestra
Total length : 2 hours 30 minuts
Cast at Monte-Carlo Recording (Naxos CD)
Monte-Carlo Philharmonic Orchestra
Opera French Chorus
Chorus Master : Claire Levacher
Singing Master : Mari Laurila
Music Director : Laurent Petitgirard
| | | |
| --- | --- | --- |
| Elephant Man | Contralto | Nathalie STUTZMANN |
| Doctor Treves | Baryton | Nicolas RIVENQ |
| Tom Norman | Tenor | Robert BREAULT |
| Mary | Soprano | Marie DEVELLEREAU |
| Eva Lückes | Mezzo | Sophie KOCH |
| Carr Gomm | Bass | Nicolas COURJAL |
| The Colorature | Colorature | Celena NELSON |
| Jimmy | Soprano (child) | Damien GRELIER |
| Boy 1 | Tenor | Christophe CRAPEZ |
| Boy 2 | Baryton | Francis DUDZIAK |
| The young girl | Soprano | Liliana FARAON |
| The father | Baryton | Yves BLANCHARD |
| The mother | Mezzo | Françoise FAIDHERBE |
| Women 1 | Soprano | Agnès POLY |
| Women 2 | Mezzo | Mari LAURILA |
Awards
"JOSEPH MERRICK DIT ELEPHANT MAN"
S.A.C.D.'s 2001 AWARD

SELECTIONED BY THE FONDATION BEAUMARCHAIS

NOMINATION AT THE 2001 FRENCH CLASSICAL AWARDS

CD OF THE MONTH BY "CLASSICA"

DVD OF THE MONTH BY "THE GRAMOPHONE"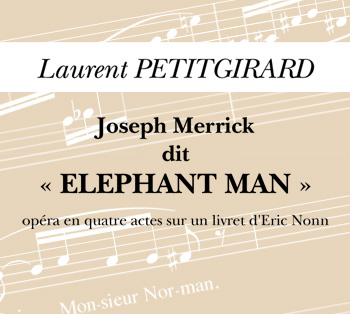 First performances, Television
Joseph Merrick the Elephant Man was premiered on 7 February 2002 at the State Opera House, Prague, for a total of 6 performances.
The opera was performed again during the Prague Spring Festival (29 May 2002).
The production was in French. Stage direction by Daniel Mesguich, set design and costumes by Frédéric Pineau, music director Laurent Petitgirard.
This production is co-produced by Nice Opera (3 performances 29 November - 3 December 2002)
The Minessota Opera did present a new production in Saint Paul, May 2006, 13-21.

The Nice performances were filmed for the French TV Network (OSF Productions) by Jean-David Curtis.

A 52' 'making of' film by François Roussillon, An Opera for Elephant Man, shot during and after the recordings in Paris, Monte Carlo and London, was broadcasted by France 3 in november 2002 and october 2003.

The recording is available on the Naxos label.
The DVD is available on the Marco Polo label, the film of the opera has been broadcasted on TF1 in 2006 and 2007, by Mezzo in 2006 and 2007.
At the Prague State Opera
Performances in 2002 on 7/02 (premiere), 9/02-13/02-17/02-24/02-03/03
Spring of Prague : 29/05/2002

CAST IN PRAGUE :
Orchestra and Chorus from the Prague State Opera, Chorus Master : Claire Levacher
Musical Director: Laurent Petitgirard
Stage Director: Daniel Mesguich
Assistant : Philippe Noël
Art Director and Costumes : Frédéric Pineau
Lightning : Patrick Méeus
Models of Frédéric PINEAU's set design (Prague)
| | | |
| --- | --- | --- |
| Elephant Man | Contralto | Jana SYKOROVA |
| Doctor Treves | Baryton | Petteri FALCK |
| Tom Norman | Tenor | Philippe DO |
| Mary | Soprano | Marie DEVELLEREAU |
| Eva Lückes | Mezzo | Petra LINTYMEROVA |
| Carr Gomm | Bass | Tomas BARTUNEK |
| The Colorature | Colorature | Dagmar VANKATOVA - M.TODORCOVA |
| Jimmy | Soprano | Jitka BURGETOVA - Jana KOUCKA |
| Boy 1 | Tenor | Jiri HRUSKA |
| Boy 2 | Baryton | Marian REHOR - Zdenek MUSIL |
| The young girl | Soprano | Martina BAUEROVA - Jana MARKVARTOVA |
| The father | Baryton | Libor NOVAK |
| The mother | Mezzo | Jana LEVICOVA |
| Women 1 | Soprano | Daniela RADOSA - Erika JARKOVSKA |
| Women 2 | Mezzo | Martina PODESTOVA - Jarmila HOLUBOVA |
Frédéric PINEAU's costumes models'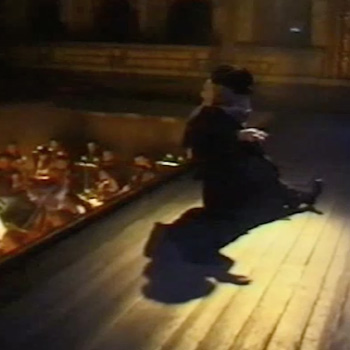 At The Nice Opera (coproduction with Prague)
Performances : 29/11/2002 (premiere) and 01-03/12/2002

CAST IN NICE :
Orchestra and Chorus from the Nice's Opera
Chorus Master : Giulio Magnanini
Singing Master : Mari Laurila
Music Director: Laurent Petitgirard
| | | |
| --- | --- | --- |
| Elephant Man | Contralto | Jana SYKOROVA |
| Doctor Treves | Baryton | Nicolas RIVENQ |
| Tom Norman | Tenor | Robert BREAULT |
| Mary | Soprano | Valérie CONDOLUCI |
| Eva Lückes | Mezzo | Elsa MAURUS |
| Carr Gomm | Bass | Nicolas COURJAL |
| The Colorature | Colorature | Magali LEGER |
| Jimmy | Soprano | Mari LAURILA |
| Boy 1 | Tenor | Gilles SANJUAN |
| Boy 2 | Baryton | Bernard IMBERT |
| The young girl | Soprano | Liesel JÜRGENS |
| The father | Baryton | Eric FERRI |
| The mother | Mezzo | Ivanca DEVENA |
| Women 1 | Soprano | Corinne PARENTI |
| Women 2 | Mezzo | Cristina GRECO |
Nice's perfomances (Photos)
Photographies: Service Photo de la Ville de Nice (all right reserved)
At the Minnesota Opera – St Paul Minneapolis
13-21 MAY 2006

CAST IN MINNEAPOLIS :
Music Director: Antony WALKER
Stage Director and Choreographer: Doug VARONE
Art Director : Christine JONES
Costumes : James SCHUETTE
Lighting Designer : Jane COX
Doug Varone's Dance Company
| | | |
| --- | --- | --- |
| Elephant Man | Contretenor | David WALKER |
| Doctor Treves | Baryton | Christopher SCHALDENBRAND |
| Tom Norman | Tenor | Theodore CHLESTOS |
| Mary | Soprano | Alison BATES |
| Eva Lückes | Mezzo | Kendall GLADEN |
| Carr Gomm | Basse | Seth KEETON |
| The Colorature | Colorature | Marie Wilson |
| Jimmy | Soprano |   |
| Boy 1 | Tenor | John Michael MOORE |
| Boy 2 | Baryton | Edward MOUT |
| The father | Baryton | Raymond AYERS |
Models of Christine Jones' set design (Minneapolis)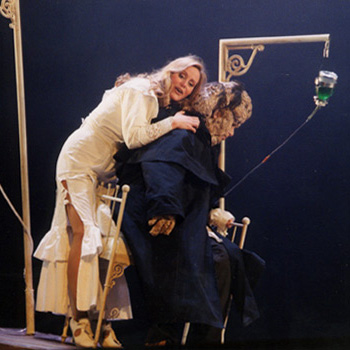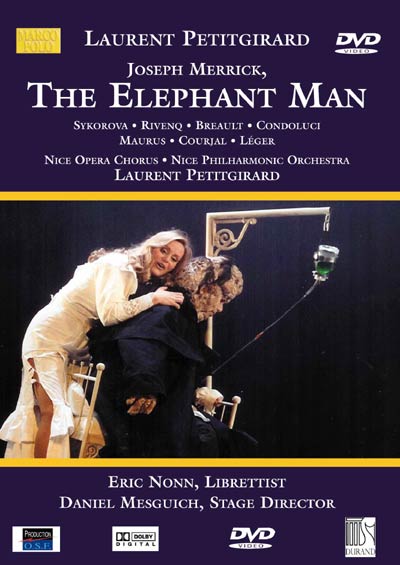 Joseph Merrick, The Elephant Man
MARCO POLO 2-220001
DVD from the live performance at the Nice's Opera "Joseph Merrick the Elephant Man", Jana Sykorova, Nicolas Rivenq, Valérie Condolucci, Robert Breault, Nicolas Courjal, Magali Léger, Stage director Daniel Mesguich, Nice's Opera Orchestra and Chorus, music director Laurent Petitgirard
DVD of the month "The Gramophone"
To buy this DVD
Reviews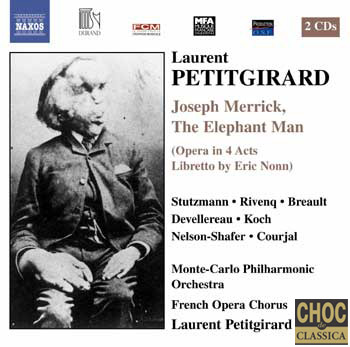 Joseph Merrick, The Elephant Man
Naxos 8.557 608/9
"Joseph Merrick dit Elephant Man", Opéra sur un livret d'Eric Nonn (double CD)
Nathalie Stutzmann, Nicolas Rivenq, Marie Devellereau, Robert Breault, Sophie Koch, Celena Nelson-Shafer, Nicolas Courjal, Francis Dudziak, Christophe Crapez…
Orchestre Philharmonique de Monte-Carlo, Choeur Français d'Opéra, Direction Laurent Petitgirard
"JOSEPH MERRICK THE ELEPHANT MAN" RECEIVED THE 2001 SACD'S MUSIC PRIZE
Download in CD Quality on

Reviews