"GURU"
AN OPERA COMPOSED BY LAURENT PETITGIRARD
Libretto by Xavier Maurel based on an original idea of the composer
State Commission
OSF Productions Publisher

Recorded for the label Naxos in October 2010 in Budapest, music director Laurent Petitgirard
World premiere at theSzczecin's Castle Opera (Poland) September 28, 2018 (6 performances) Damien Cruden - L.Petitgirard

New production in Nice (France) February 20-22-24, 2024, stage director Murielle Mayette-Holtz, Music director L.Petitgirard

Caracters
Guru
Baryton
Marie
Actress
Victor, Guru's assistant
Tenor
Iris, Guru's wife
Soprano lyrique
Carelli (« The scientist  »)
Bass
Marthe, Guru's mother
Contralto
Les six nouveaux adeptes (Ensemble vocal)
New disciple 1
Soprano
New disciple 2
Mezzo
New disciple 3
Alto
New disciple 4
Tenor
New disciple 5
Baryton
New disciple 6
Bass
Mixed choir
The disciples
Orchestration
Duration : 2 hours
3 flutes (2nd picc-3thd picc & G flute)
2 oboe
1 english horn
3 clarinets (3thd mostly bass clarinet)
3 bassoons (3thd contrebassoon)
4 horns
3 trumpets
3 trombones (3thd bass trombone)
1 Tuba
1 Harp
1 Celesta
1 Timpanist
3 percussionists
Strings 14-12-10-8-6 (minimum 12-10-8-6-5)
Synopsis
The members of a sect lead reclusive lives on an island under the influence of Guru, their master, to whom they have entrusted themselves and their possessions as well as the task of guiding their lives. With Guru are Marthe, his mother, Iris, a now abandoned adept with whom he has had a child, and also Victor and Carelli, respectively the 'financier' and the 'scientist' of the organisation.
Guru wields total authority over his disciples, who are scrupulous in their adherence to the rules of life he has prescribed. They are weakened and fanatical, and their only food is derived by Carelli from sea water, a preparation that is supposed to lead them to 'transparency', the ultimate stage of sanctity before the 'great journey' (death, of course).
When the opera begins, new adepts have just arrived on the island. Among them is Marie, who holds herself apart, keeps her eyes open, and, above all, refuses to sing with the others (this is a speaking role from start to finish). She openly declares to Guru that she has "come to destroy him".
Guru, self-confident to the point of insanity, willingly sees Marie as a trial that has been sent him, and Marthe and Victor are astonished to notice that he has now come to believe in his own power and in what for them is just a ruse intended to delude simple minds.
It is in this context that Iris's child, who had been declared sacred by Guru – and who, as such, had been wasting away in the sect's sanctuary, a veritable living icon receiving scant nourishment – shows signs of being at death's door. Under Marie's influence, the troubled adepts seek to oppose Guru's will and attempt to save the child. When it dies, Guru sends them back, brilliantly using Carelli's fantastical theories as the basis of an electrifying speech. The event is, however, a catalyst. Guru declares that the 'great journey' must wait no longer and fixes it for the following day. He orders everyone to make ready and prepare themselves for what will be nothing less than a huge collective suicide. Iris, alone and in despair after the death of her child, is the first to commit suicide, thus managing as it were to escape from Guru's influence. Marthe and Victor, by now appalled at Guru's delirium, try to resist his plan, not having thought it would ever concern them. Yet the first dies by the hand of Guru himself, while the second is left to be lynched by a barbaric mob of frantic adepts.
Everything is ready for the tragic denouement, and all are about to drink the potion prepared by Carelli, supposed to enable them to meet again in purity in the spheres. Marie still wants to avoid the catastrophe, and Guru's final challenge is to tell her that if she finds a single adept who refuses to 'leave' with the others, he will renounce the 'journey' for them all. As he foresaw, she comes up against the stubborn refusal of every adept, and all drink what is quite simply poison. Racked by unbearable pain, the adepts die one after the other as Guru heaps insults on them, commanding them to show themselves worthy of the election of which, by this act, they are the objects.
Guru and Marie now confront each other amid the final death rattles. Before himself drinking the poison, he predicts that Marie also will follow them, the last yet the most precious of the converts. After the death of the mad master, Marie is left alone, prostrate with horror, gazing at the poison…
(english translation by Jeremy Drake)
Guru Composer's notes
The theme of the opera Guru is psychological manipulation within a sect. The main character, Guru, is a misguided mystic who is charismatic, highly intelligent, seductive, and manipulative. Xavier Maurel and I wanted to represent the life of a man with a heightened sense of sexuality and a very dubious relationship with money and power who rules over a sect of fifty followers living in seclusion on an island.
The opera depicts the descent into madness and death of an anti-hero who forgets that he himself contrived his sect's rites and rituals and starts to believe that he is truly the "Chosen One". The Guru is no longer able to face the world around him, and dissention starts to stir among his inner circle. His madness becomes murderous. He loses all sense of reality and leads followers and loved ones into a suicidal vortex.
The theatrical portrayal of an apocalyptic sect
Psychological manipulation takes place before our eyes daily. Everyone has been a witness to it; and it comes in varying degrees of dangerousness. It happens in families and in work settings and sects use it as a weapon. Some sects have their roots in religious fundamentalism, others are at play in political, intellectual or artistic spheres, or become veritable financial powers, and others still, referred to as apocalyptic, have been known to call for collective suicide. Our Guru's sect belongs in this last category: the darkest and most dangerous and, for its followers, also the most enticing.
The language of this world of madness is song.
One woman, Marie, recently joined the sect, along with a small group of converts, to prevent the collective suicide. She is the only person who stands up to Guru. She is also the only person who has not succumbed to the madness. Marie does not sing, she speaks. The role is always played by an actress; and because her lines have all been written to be rhythmical, excellent musical skills are required. The progressive destruction of peoples' personalities and of their capacity to reason, and the constant ramming of ideas into peoples' heads are meant to do away with any form of discernment with respect to a guru's theories, however inane they may be; all of this is compounded by an absolute lack of communication among followers. In a completely single-sided relationship, the words of the guru become the only frame of reference for believers. Songs must only be sung for and to him. In our opera, Guru, music is the crux of the story as well as the instrument for its telling. Before our very eyes, song becomes the instrument of destruction.
The other characters are: Iris, Guru's companion and mother of their child, who dies for lack of medical care; Marthe, Guru's mother; Victor, his assistant; and Carelli, the ever-present scientific advisor. The opera culminates in a collective suicide which Marie, despite her many efforts, is unable to prevent and which she alone survives.
An activist and committed opera
Guru's megalomania, the seclusion in which the sect lives and the horrific collective suicide point to Jim Jones, the Peoples Temple and the tragic death of 918 persons in Jonestown. The theories that provided us inspiration for our representation of this form of horror are based on the particularly terrifying dimension of the belief in "the journey after bodily death" held by many sects.
Guru is an activist opera with an asserted and clear goal: to speak out against psychological manipulation. My first opera, Joseph Merrick dit Elephant Man (Prague and Nice 2002, Minneapolis 2005), is about social exclusion, depicted through the tragic life of a man stricken with acute neurofibromatosis who is physically repulsive, but of great sensitivity.
In certain respects, members ofsects also suffer from social exclusion. While it may not be the type of solitude experienced by the Elephant Man, people in sects are completely cut off from their families and in absolute submission to a guru. Each member of the sect is isolated, surrounded by a group from which they can expect no support.
Who can resist? Who is psychologically sound enough to face these forms of fanaticism which can be very appealing at first? Marie, the heroine, speaks to avoid the sect's brain-penetrating language which uses music. We wanted to represent how a sect functions by using as a basis real, albeit infamous, situations, such as the manipulation of children.
The almost thousand believers, mostly African-Americans, who followed Jim Jones en masse to Guyana are very different from the French, Swiss and Canadian members of the Order of the Solar Temple who were lured into the sect by Luc Jouret and Joseph di Mambro. The former were impoverished and poorly educated, while the latter were affluent and highly educated; both, however, were psychologically vulnerable. Why is it that nothing was able to prevent their fatal descent? Usually, these lost souls are first approached by recruiters who are members of the sect to whom they fall prey, and then by the guru in person who uses means such as preaching, violence, and fear, all of which were used by Jim Jones, or who may resort to appealing, elaborate and esoteric arguments which are frequently accompanied by pseudo-scientific facts.
Paranoia is a constant, regardless of method or ideology: the desire to be the sole holders of the truth and to denounce those who our Guru refers to as "la Conjuration des imbeciles", the Confederacy of Imbeciles. The well-known process of seduction-destruction-reconstruction is used by most sectarian movements. It is virtually impossible to have a rational debate with members of these sects, even if they are still in contact with their friends and family. Their minds have been formatted, even the most rational and fact-backed arguments have no effect on them. Worse yet, they remain steadfast in their beliefs even when presented with real facts that unequivocally refute the guru's theories. This explains why the end of the world can be announced regularly by such and such a guru and when nothing happens on the date specified, their followers continue to have unwavering faith. They are prisoners of their language. I wanted people to hear this.
Xavier Maurel, with his sober, elegant and imagery-filled style and his decision to include highly conflictual situations, was able to magnify a theme that remains dear to my heart. His innate sense of rhythm was not only precious, it greatly facilitated our impassioned collaboration. Once we had defined the essential components of the story, I gave him free rein to write the libretto. Although we communicated continually throughout the process, Xavier wrote the story. The writing of the opera began in June 2006 and ended in October 2009. A year later it was recorded for Naxos in Budapest with the Hungarian Symphony Orchestra, conducted by me.
Guru on stage
I was extremely happy when The Castle Opera in Szczecin courageously decided to produce a work aimed at creating social change, which will be seen, I hope, as a warning about a social phenomenon with tragic consequences. Cults such as that of Jim Jones, Daesh, and Aum in Japan are paths of the absurd that converge.
The island of the sinister Guru in our story is perhaps just outside your door.
First and foremost, I would like to express my deepest gratitude to Xavier Maurel. I would also like to thank Jacek Jekiel and Jerzy Woloziuk for their enthusiasm and curiosity, Stanislaw Suchora for introducing Guru in Poland, Damian Cruden for his unrestrained imagination in staging, the Fond de Création Lyrique, the Institut Français de Pologne, and the artists and technicians who worked on this production of Guru. And, a special thought for baritone Hubert Claessens and for Sonia Petrovna, irreplaceable on stage and off.
Laurent Petitgirard
English translation by Carmen Benito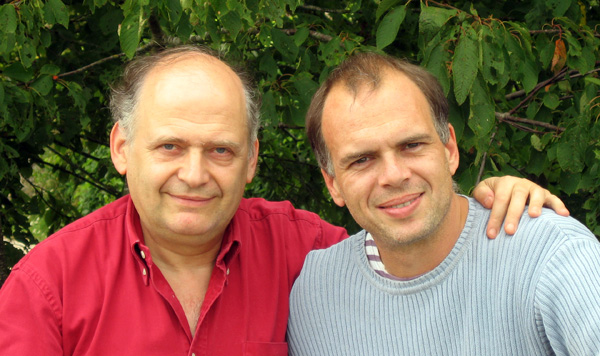 CD
Naxos recording Budapest (October 2010, 8-25 ) - World release August 2012
| | |
| --- | --- |
| Guru | Hubert Claessens |
| Marie | Sonia Petrovna |
| Victor | Philippe Do |
| Iris | Karen Wzierba |
| Carelli | Philippe Kahn |
| Marthe | Marie-Noel Vidal |
| New disciple 1 | Andrea Csereklyei |
| New disciple 2 | Sára Dezsö |
| New disciple 3 | Gabriella Galbács |
| New disciple 4 | Lajos Fodré |
| New disciple 5 | György Philipp |
| New disciple 6 | Kornél Mikecz |
| The disciples | Budapest Studio Choir |
| Orchestra | Hungarian Symphony Orchestra Budapest |
| Chorus Master | Kalman Strausz |
| Singing Master | Mari Laurila-Lili |
| Music Director | Laurent Petitgirard |
This recording is supported by :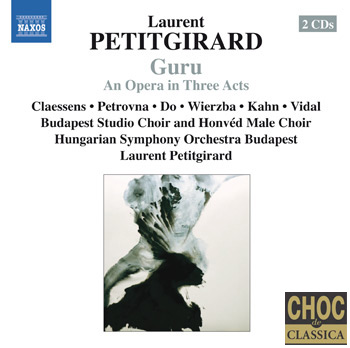 Guru
Naxos 8-660300-01
World release August 2011
You may download GURU in Studio Masters Quality on

Reviews
Guru Recording's making of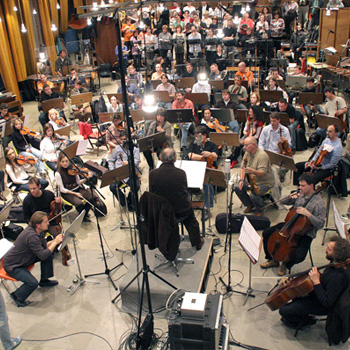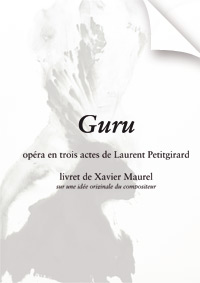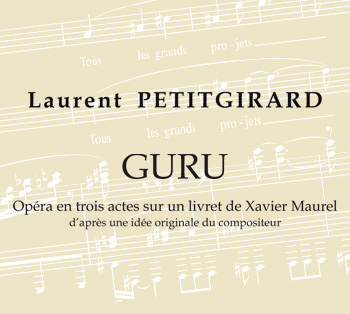 Cast at the Castle Opera in Szczecin 28/09-02/10/2018
WORLD PREMIERE AT THE SZCZECIN' CASTLE OPERA, 28/09-02/10, 2018

Stage Director Damian Cruden
Music Director Laurent Petitgirard
Associate Music Director Jerzy Woloziuk
Hubert Claessens, Guru
Sonia Petrovna, Marie
Cast
| | |
| --- | --- |
| Guru | Hubert Claessens / |
| Marie | Sonia Petrovna |
| Victor | Paul Gaugler / Juan Noval-Moro |
| Iris | Bozena Bujnicka, Magdalena Marchewka |
| Carelli | Guillaume Dussau, Janusz Lewandowski |
| Marthe | Gosha Kowalinska, Ewa Zeuner |
| New disciple 1 | Lucyna Boguszewska |
| New disciple 2 | Iga Caban |
| New disciple 3 | Sandra Klara Januszewska |
| New disciple 4 | Pawel Wolski |
| New disciple 5 | Tomasz Luczak |
| New disciple 6 | Rafal Pawnuk |
| Mixed Choir | Chœur de l'Opéra de Szczecin |
| Orchestra | Orchestre de l'Opéra de Szczecin |
| Chorus master | Ma?gorzata Bornowska |
| Vocal Master | Mari Laurila-Lili |
| Assistant Conductor | Antonina Banas |
| | |
| Music Director | Laurent Petitgirard |
| Associate Music Director | Jerzy Woloziuk |
| Stage Director  | Damian Cruden |
| Set Designer | Jérôme Bourdin |
| Costume Designer | Dominique Louis |
| Associate Costume Designer | Agata Tyszko |
| Lighting Designer | Maciej Igielski |
Avec le soutien de la société Investimo et du Fond de Création Lyrique (FCL)
Photos M. Grotowski
Press
World premiere 28/09/2018 filmed at the Szczecin's Castle Opera (Poland)

Music Laurent Petitgirard
Libretto Xavier Maurel
World premiere 28/09/2018 filmed at the Szczecin's Castle Opera (Poland)
Orchestra and Choir from the Szczecin Castle Opera
Music Director Laurent Petitgirard
Stage director Damian Cruden
Set Jérôme Bourdin
Costumes Dominique Louis - Agata Tyszko
Lights Maciej Igielski
« Open your Eyes….Work which moves ahead »
Acte 1 scene 1
Paul Gaugler, ténor (Victor)
Guillaume Dussau, basse (Carelli)
Huub Claessens, baryton-basse (Guru)
WATCH THIS VIDEO CLIP
« It's the conspiracy of fools »
Acte 1 scene 2
Huub Claessens, baryton-basse (Guru)
Lucyna Boguszewska (New Adept 1)
Guillaume Dussau, basse (Carelli)
Paul Gaugler, ténor (Victor)
WATCH THIS VIDEO CLIP
« So you will not sing ? »
Acte 1 scene 3
Sonia Petrovna, actress (Marie)
Paul Gaugler, ténor (Victor)
Huub Claessens, baryton-basse (Guru)
WATCH THIS VIDEO CLIP
« I admire your composure »
Acte 1 scene 4
Paul Gaugler, ténor (Victor)
Huub Claessens, baryton-basse (Guru)
WATCH THIS VIDEO CLIP
« What are you doing there ? »
Acte 1 scene 5
Bozena Budjnicka, soprano (Iris)
Huub Claessens, baryton-basse (Guru)
WATCH THIS VIDEO CLIP
« How difficult it is to be the only one to know »
Acte 1 scene 6


Huub Claessens, baryton-basse (Guru)

WATCH THIS VIDEO CLIP
« Destroy, he wants to destroy them »
Acte 2 scene 1 - scene 2A
Sonia Petrovna, actress (Marie)
Gosha Kowalinska, mezzo (Marthe)
WATCH THIS VIDEO CLIP
« Silence ! »
Acte 2 scene 2 B


Huub Claessens, baryton-basse (Guru)

WATCH THIS VIDEO CLIP
« The Child »
Acte 2 scene 3
Sonia Petrovna, actress (Marie)
Huub Claessens, baryton-basse (Guru)
WATCH THIS VIDEO CLIP
« Shame »
Acte 2 scene 4 (part 1)
Bozena Budjnicka, soprano (Iris)
Gosha Kowalinska, mezzo (Marthe
Sonia Petrovna, actress(Marie)
Paul Gaugler, ténor (Victor)
Guillaume Dussau, basse (Carelli)
Huub Claessens, baryton-basse (Guru)
WATCH THIS VIDEO CLIP
« The moment has come »
Acte 2 scene 4 (part 2)
Bozena Budjnicka, soprano (Iris)
Gosha Kowalinska, mezzo (Marthe)
Sonia Petrovna, actress (Marie)
Paul Gaugler, ténor (Victor)
Guillaume Dussau, basse (Carelli)
Huub Claessens, baryton-basse (Guru)
WATCH THIS VIDEO CLIP
« I let my child die »
Acte 3 scene 1


Bozena Budjnicka, soprano (Iris)

WATCH THIS VIDEO CLIP
« You have waited, You have had faith in me »
Acte 3 scene 2 (excerpt)


Huub Claessens, baryton-basse (Guru)

WATCH THIS VIDEO CLIP
« That Death ! »
Acte 3 scene 3
Gosha Kowalinska, mezzo (Marthe)
Huub Claessens, baryton-basse (Guru)
WATCH THIS VIDEO CLIP
« You have all been given a flask of special water »
Acte 3 scene 4 (part 1)
Guillaume Dussau, basse (Carelli)
Huub Claessens, baryton-basse (Guru)
WATCH THIS VIDEO CLIP
« Here he is Guru »
Acte 3 scene 4 (part 2)
Sonia Petrovna, actress (Marie)
Huub Claessens, baryton-basse (Guru)
Paul Gaugler, ténor (Victor)
WATCH THIS VIDEO CLIP
« They are mad, They are as mad as you are »
Acte 3 scene 5
Sonia Petrovna, actress (Marie)
Huub Claessens, baryton-basse (Guru)
Guillaume Dussau, basse (Carelli)
WATCH THIS VIDEO CLIP
« I know that you have been here a long time »
Acte 3 scene 6


Sonia Petrovna, actress (Marie)

WATCH THIS VIDEO CLIP
« I shall drink the mixture »
Acte 3 scene 7
Pawel Wolski (New Adept 4)
Tomasz Luczak (New Adept 5)
Lucyna Boguszewska (New Adept Disciple 1)
Iga Caban (New Adept 2)
Sandra Klara Januszewska (New Adept 3)
Rafal Pawnuk (New Adept 6)
Huub Claessens, baryton-basse (Guru)
WATCH THIS VIDEO CLIP
« Did you see that they have gone… »
Acte 3 scene 8
Sonia Petrovna, actress (Marie)
Huub Claessens, baryton-basse (Guru)
WATCH THIS VIDEO CLIP
« Open your Eyes….Work which moves ahead »
Acte 1 scene 1
Paul Gaugler, ténor (Victor)
Guillaume Dussau, basse (Carelli)
Huub Claessens, baryton-basse (Guru)
WATCH THIS VIDEO CLIP
« It's the conspiracy of fools »
Acte 1 scene 2
Huub Claessens, baryton-basse (Guru)
Lucyna Boguszewska (New Adept 1)
Guillaume Dussau, basse (Carelli)
Paul Gaugler, ténor (Victor)
WATCH THIS VIDEO CLIP
« So you will not sing ? »
Acte 1 scene 3
Sonia Petrovna, actress (Marie)
Paul Gaugler, ténor (Victor)
Huub Claessens, baryton-basse (Guru)
WATCH THIS VIDEO CLIP
« I admire your composure »
Acte 1 scene 4
Paul Gaugler, ténor (Victor)
Huub Claessens, baryton-basse (Guru)
WATCH THIS VIDEO CLIP
« What are you doing there ? »
Acte 1 scene 5
Bozena Bujnicka, soprano (Iris)
Huub Claessens, baryton-basse (Guru)
WATCH THIS VIDEO CLIP
« How difficult it is to be the only one to know »
Acte 1 scene 6
Huub Claessens, baryton-basse (Guru)
WATCH THIS VIDEO CLIP
« Destroy, he wants to destroy them »
Acte 2 scene 1 - scene 2A
Sonia Petrovna, actress (Marie)
Gosha Kowalinska, mezzo (Marthe)
WATCH THIS VIDEO CLIP
« Silence ! »
Acte 2 scene 2 B
Huub Claessens, baryton-basse (Guru)
WATCH THIS VIDEO CLIP
« The Child »
Acte 2 scene 3
Sonia Petrovna, actress (Marie)
Huub Claessens, baryton-basse (Guru)
WATCH THIS VIDEO CLIP
« Shame »
Acte 2 scene 4 (part 1)
Bozena Bujnicka, soprano (Iris)
Gosha Kowalinska, mezzo (Marthe
Sonia Petrovna, actress(Marie)
Paul Gaugler, ténor (Victor)
Guillaume Dussau, basse (Carelli)
Huub Claessens, baryton-basse (Guru)
WATCH THIS VIDEO CLIP
« The moment has come »
Acte 2 scene 4 (part 2)
Bozena Budnicka, soprano (Iris)
Gosha Kowalinska, mezzo (Marthe)
Sonia Petrovna, actress (Marie)
Paul Gaugler, ténor (Victor)
Guillaume Dussau, basse (Carelli)
Huub Claessens, baryton-basse (Guru)
WATCH THIS VIDEO CLIP
« I let my child die »
Acte 3 scene 1
Bozena Bujnicka, soprano (Iris)
WATCH THIS VIDEO CLIP
« You have waited, You have had faith in me »
Acte 3 scene 2 (excerpt)
Huub Claessens, baryton-basse (Guru)
WATCH THIS VIDEO CLIP
« That Death ! »
Acte 3 scene 3
Gosha Kowalinska, mezzo (Marthe)
Huub Claessens, baryton-basse (Guru)
WATCH THIS VIDEO CLIP
« You have all been given a flask of special water »
Acte 3 scene 4 (part 1)
Guillaume Dussau, basse (Carelli)
Huub Claessens, baryton-basse (Guru)
WATCH THIS VIDEO CLIP
« Here he is Guru »
Acte 3 scene 4 (part 2)
Sonia Petrovna, actress (Marie)
Huub Claessens, baryton-basse (Guru)
Paul Gaugler, ténor (Victor)
WATCH THIS VIDEO CLIP
« They are mad, They are as mad as you are »
Acte 3 scene 5
Sonia Petrovna, actress (Marie)
Huub Claessens, baryton-basse (Guru)
Guillaume Dussau, basse (Carelli)
WATCH THIS VIDEO CLIP
« I know that you have been here a long time »
Acte 3 scene 6
Sonia Petrovna, actress (Marie)
WATCH THIS VIDEO CLIP
« I shall drink the mixture »
Acte 3 scene 7
Pawel Wolski (New Adept 4)
Tomasz Luczak (New Adept 5)
Lucyna Boguszewska (New Adept Disciple 1)
Iga Caban (New Adept 2)
Sandra Klara Januszewska (New Adept 3)
Rafal Pawnuk (New Adept 6)
Huub Claessens, baryton-basse (Guru)
WATCH THIS VIDEO CLIP
« Did you see that they have gone… »
Acte 3 scene 8
Sonia Petrovna, actress (Marie)
Huub Claessens, baryton-basse (Guru)
WATCH THIS VIDEO CLIP